Peter Snyder, Ph.D.
Edit My Page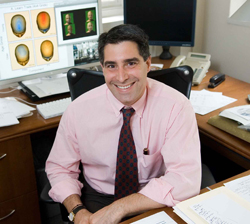 Title: Professor of Neurology (Research)
Department: Neurology
Peter_Snyder@brown.edu
+1 401 444 4117
Overview | Publications
Biography
Prof. Snyder currently serves as the Vice President for Research, for the Lifespan Hospital System - the major teaching affiliate hospitals for the Alpert Medical School of Brown University. Prof. Snyder maintains active research programs in neuropharmacology, the discovery of novel early detection biomarkers for Alzheimer's disease, and scholarship on various topics pertaining to medical research ethics and the history of the neurosicences.
Selected Publications
Vogel, A.P., Fletcher, J., Snyder, P.J., Frederickson, A., & Maruff, P. (2010). Reliability, stability and sensitivity to change and impairment in acoustic measures of timing and frequency. Journal of Voice, in press.(2010)
Helt, M.S., Eigsti, I-M., Snyder, P.J. & Fein, D.A. (2010). Contagious Yawning in Autistic and Typical Development. Child Development, in press.(2010)
Tippett, W.J., Lee, J-H, Mraz, R., Zakzanis, K.K., Snyder, P.J., Black, S.E., & Graham, S.J.(2009). Convergent Validity and Sex Differences in Healthy Elderly Adults for Performance on 3D Virtual Reality Navigation Learning and 2D Hidden Maze Tasks. Cyberpsychology & Behavior, 12(2), 169-174.(2009)
Maruff, P., Thomas, E., Cysique, L., Brew, B., Collie, A., Snyder, P.J., & Piterzak, R.H. (2009). Validity of the CogState Brief Battery: Relationship to standardized tests and sensitivity to cognitive impairment in mild traumatic brain injury, schizophrenia and AIDS dementia complex. Archives of Clinical Neuropsychology, in press.(2009)
Pietrzak, R.H., Maruff, P., Snyder, P.J. (2009). Methodological improvements in quantifying cognitive change in clinical trials: an example with single-dose administration of donepezil. The Journal of Nutrition, Health & Aging, 13, 268-213.(2009)
Ma, J.D., Lawendy, N.M., Fullerton, T., Snyder, P.J., Nafziger, A.N., & Bertino, Jr., J. (2009). Intravenous flumazenil enhances the safety of oral midazolam for use as a cytochrome P450 3A probe. International Journal of Clinical Pharmacology & Therapeutics, 47(2):111-119.(2009)
Vogel, A. P., Maruff, P., Snyder, P.J., & Mundt, J. C. (2009). Standardization of pitch range settings in voice acoustic analysis. Behavior Research Methods, 41(2), 318-324.(2009)
Papp, K.V., Walsh, S.J., & Snyder, P.J. (2009). Immediate and delayed effects of cognitive interventions in healthy elderly: A review of current literature and future directions. Alzheimer's & Dementia, 5, 50-60.(2009)
Pietrzak, R.H., Maruff, P., & Snyder, P.J. (2009). Convergent validity and effect of instruction modification on the Groton Maze Learning Test, a new measure of spatial working memory and error monitoring. International Journal of Neuroscience, 119: 1137-1149.(2009)
Pietrzak, R.H., Olver, J., Norman, T., Piskulic, D., Maruff, P., & Snyder, P.J. (2009). A comparison of the CogState schizophrenia battery and the measurement and treatment research to improve cognition in schizophrenia (MATRICS) battery in assessing cognitive impairment in chronic schizophrenia. J. Clinical and Exper Neuropsychology, 31(7), 848-859.(2009)
Snyder, P.J., Papp, K.V., Bartkowiak, J., Jackson, C.E., & Doody, R.S. (2009). Recruitment of participants for Alzheimer's disease clinical trials: The role of trust in caregivers, clinical researchers, regulatory authorities and industry sponsors. Alzheimer's & Dementia: The Journal of the Alzheimer's Association, 5(2):122-124.(2009)
Stonnington, C.M., Snyder, P.J., Hentz, J.G., Reiman, E.M., Caselli, R.J. (2009). Double-blind crossover study of the cognitive effects of lorazepam in healthy apolipoprotein E (APOE)-ε4 carriers. Journal of Clinical Psychiatry, in press. (doi: 10.4088/JCP.08m04593)(2009)
For more search options, visit the Directory of Research and Researchers at Brown.